Lead Sheet 12" x 12" x 20 Ga. thick.
Soft lead sheet is easily cut with a standard scissors. Material is soft enough to form and bend around sharp corners. Typically used for lining boxes for storing radioactive materials. 20 Ga. material is 0.0375" thick. Each 12" x 12" sheet weights approximately 2.5lbs.
Lead Shielding Guide
PB-01 - $19.95
Lead Sheet 12" x 12" x 20 Ga.

Radiation Safety: Lead Lined Containers and Decon Spray
Lead Pig (Refurbished)
Plastic shelled lead storage containers for radioactive material, known in the industry as 'Pigs', The internal container is a solid cast lead container fabricated for nuclear material containment. Safely store your uranium ore, radioactive Isotopes, and other radioactive samples. The plastic shell protects you from physically touching lead, which is a toxic metal. Click on "More Pictures" below to see open view of container.

Our Pig includes a paper sticker label that you can record the contents.
Lead Shielding Guide

More Pictures

Outer Dimensions (approximate)
2.25"(diameter) x 3.5"(height)
Inner Dimensions (approximate)
1.1"(inside diameter) x 2.4"(inside depth)
Weight (approximate): 2 lbs.-1 oz.
Lead Thickness (approximate): 0.25"


CONT-01 - $40.00
Lead Pig

Lead Shielded Disc Source Containers
LSD1
For 1-2 sources of >5 uCi, the LSD1 Lead Shield simplifies shipping problems and offers ultra-safe storage of sources. Now painted on both sides for safety.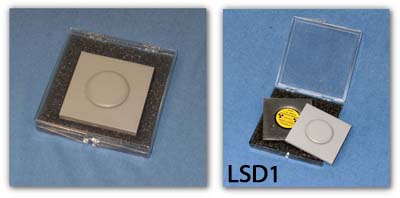 LSD4 For 1-8 sources, the LSD4 simplifies both shipment, and storage of your disk sources. Painted on both sides for safety, an entire set of eight sources will fit inside the LSD4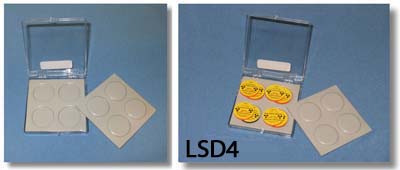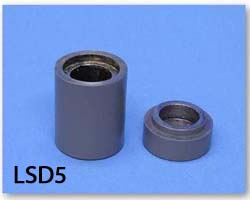 LSD5
With a wall thickness of 0.5", this LSD5 lead shield container is suitable for higher activity sources. Holds up to 20 1" discs. Outside Dimensions: 3.6" x 2.25", Interior Dimensions: 2.65" X 1.25", 0.5" thick, approximately 4.6 lbs weight, painted exterior.
LSD1 - $16.00 (Out Of Stock)
Lead Shielded Disc Container (Capacity 1 disc)

LSD4 - $18.00 (Out Of Stock)
Lead Shielded Disc Container (Capacity 8 discs)

LSD5 - $44.00

Lead Shielded Disc Container (Capacity 20 discs)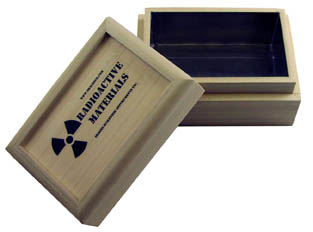 Lead Lined Box
Wooden box with a lead foil lining. Used for containing radioactive samples. Picture and sizes are approximate.

Outer Dimensions
2.5 " H x 2.75" W x 4.0" L
Inner Dimensions
1.5" H x 2.0" W x 3.25" L

Lead Shielding Guide
RADBOX-01 - $29.95
Lead Lined Box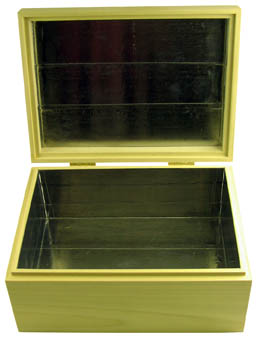 Hinged Lead Lined Box
Wooden box with a thin lead foil lining. Used for containing radioactive samples. Picture and size are approximate.

Outer Dimensions
3.5" H x 5.75" W x 7.72" L

Inner Dimensions
3.0 " H x 5.0" W x 7.0" L

Lead Shielding Guide



RADBOX-02 - $44.95
Hinged Lead Lined Box

Lead Foil with Adhesive Backing
Soft lead foil is easily cut with a standard scissors. Material is soft enough to form and bend around sharp corners. Typically used for lining boxes for storing radioactive materials. Size of material is 1.75" wide x 5 mils (.005) thick. Lead foil has adhesive backing for easy mounting to your project. See Lead Lined Box.
Lead Shielding Guide
PB-02 - $2.50 / foot
Lead Foil with Adhesive Backing